Ultralyx® AUREO® FC C6000 Mineral
Product number: 57663
---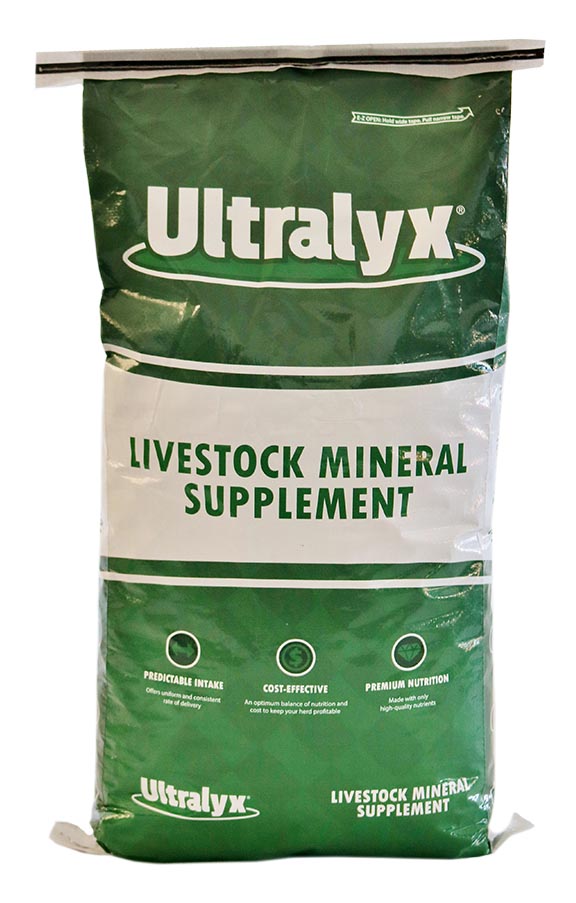 Product Information
Beef Cattle - Weaned on Pasture: As an aid in the control of active infection of anaplasmosis caused by Anaplasma marginale susceptible to chlortetracycline.
CAUTION: Federal law restricts medicated feeds containing this veterinary feed directive (VFD) drug to use by or on the order of a licensed veterinarian. Download VFD Form
FDA-approved, free choice mineral for anaplasmosis
Highly palatable mineral consistently draws grazing cattle
Less labor than hand-feeding of medicated rations
Delivers essential minerals and vitamins in addition to chlortetracycline
Easy-to-use customized VFD form streamlines the process for both you and your veterinarian
Feeding Instructions
CAUTION: Use as directed. Consumption of selenium should not exceed 3 mg per head daily.

WARNING: This product, which contains added copper, should not be fed to sheep or related species that have a low tolerance to copper. No withdrawal period is required. A withdrawal period has not been established for this product in pre-ruminating calves. Do not use in calves to be processed for veal.
Feed a non-medicated mineral supplement for 14 days prior to feeding ULTRALYX Aureo FC C6000, then feed ULTRALYX Aureo FC C6000 on a free choice basis. Pasture and roughage should be adequate to assure consumption of 0.0027 to 0.011oz per pound of bodyweight/day of this product which will provide 0.5 to 2.0 mg Chlortetracycline per pound bodyweight per day. If cattle consume more or less than these amounts, move feeder further or closer to the general resting or watering areas. If consumption of ULTRALYX Aureo FC C6000 is greater than 0.011 oz/lb bodyweight per day after moving the feeder further from general resting or watering areas, provide salt in a separate feeder to help decrease consumption of ULTRALYX Aureo FC C6000.

Provide fresh clean water at all times.
Nutrition Information
| | |
| --- | --- |
| Calcium, Min | 9.00% |
| Calcium, Max | 10.80% |
| Phosphorus, Min | 9.50% |
| Salt, Min | 14.00% |
| Salt, Max | 16.80% |
| Magnesium, Min | 6.00% |
| Potassium, Min | 1.20% |
| Copper, Min | 750 ppm |
| Iodine, Min | 35 ppm |
| Manganese, Min | 2,900 ppm |
| Selenium, Min | 10 ppm |
| Zinc, Min | 3,000 ppm |
| Vitamin A, Min | 100,000 IU/lb |
| Vitamin D-3, Min | 10,000 IU/lb |
| Vitamin E, Min | 400 IU/lb |
Product Ingredients
Active Drug Ingredient:
Chlortetracycline ................................................................................... (3.0 g/lb) 6,000 g/ton
chlortetracycline calcium complex equivalent to 6,000 g chlortetracycline hydrochloride per ton
Monocalcium Phosphate, Dicalcium Phosphate, Salt, Magnesium Oxide, Processed Grain By-Products, Calcium Carbonate, Plant Protein Products, Molasses Products, Roughage Products, Potassium Chloride, Vegetable Oil, Manganese Sulfate, Zinc Sulfate, Copper Sulfate, Sodium Selenite, Ethylenediamine Dihydroiodide, Calcium Iodate, Cobalt Carbonate, Vitamin A Supplement, Vitamin D-3 Supplement, Vitamin E Supplement, Red Iron Oxide and Mineral Oil.